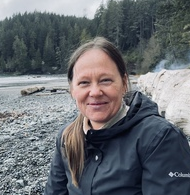 Kerry Moon
MA, RCC, FNHA Approved
Kerry has a background in Child and Youth Care and has been working with children youth and families for over 20 years and I have currently completed my Masters in Counselling Psychology. I am passionate about supporting youth or adults who may struggle with various life challenges such as anxiety, depression, grief, trauma, burnout, relationships and addictions. You will find a counsellor in me who cares deeply about the needs of their client, shows genuine empathy and an ability to make you feel significant and heard.
I provide a variety of approaches, such as person centred, narrative therapy, solution focused therapy, and cognitive behaviour therapy, combined with somatic practices. Included is a sense of humour and an ever-open ear to whatever you bring to session that needs processing.
I look forward in continuing to support individuals on their journey towards greater health and well-being.